Website:
Virginia Tech Search engine
URL:
Outdated
Description:
Virginia Tech Search engine based on Google. Previous generations of the Virginia Tech Search engine were using software developed in-house or the UltraSeek engine. Design as been relatively static since using the UltraSeek engine (switched away from in 2001). User Interfaces from previous generations were also by me, but no screen shots are available.

Virginia Tech's PeopleFinder, an online user directory, is a subset of Virginia Tech's searching capabilities.
Responsibilities:
· User Interface Design
· HTML and CSS Coding
· XSL Coding
· Graphical elements

Highlights:
· Matching My VT look and feel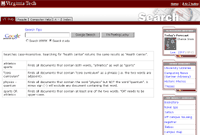 1) Search engine Home page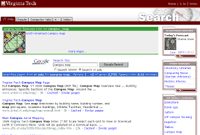 2) Page with search results.
3) PeopleFinder page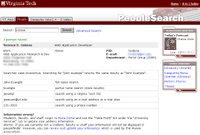 4) PeopleFinder page with search results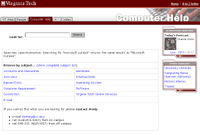 5) Computer Help page