Website:
Hokie Portal
URL:
No longer available.
Description:
Third generation portal for Virginia Tech. Hokie Portal is a gateway to Virginia Tech online services and information.

Hokie Portal features several information "channels" that focus on a particular topic. Currently there are over 30 different channels created by various university departments, and some channels are from outside sources like headline news.

Hokie Portal also offers single sign-on capability with several university services. This means that once you log into Hokie Portal, you won't have to retype your PID and password to access other online services.

Hokie Portal was designed to be used by all Virginia Tech students, faculty, staff, and alumni. Each type of user has their own personalized set of information that is displayed. For example, a student who logs in will get a list of all classes they are currently enrolled in with links to the class web site and other information. Similarly, a faculty member, when logged in, will be presented with links to the classes they are teaching.

Responsbilites:
· User Interface Design
· HTML and CSS Coding
· Cross-platform and Cross-browser support

Highlights:
· Minimal graphic usage on UI for speedy load times.
· Support of 4th generation browsers and higher.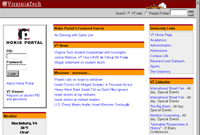 1) Front page with login.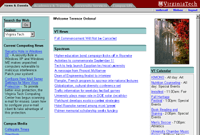 2) Main screen.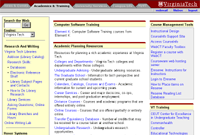 3) Services for academics and training.